Two contrasting riders:
Cavalry soldier, fully packed, by
Dirk Langendijk, 1785
Gentleman rider on the beach, by
Max Liebermann, 1910
For direct access to the database The Horse in Art in RKDimages click here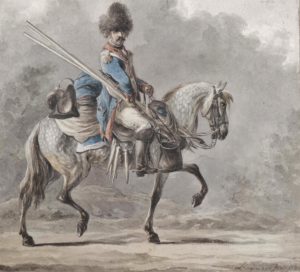 Dirk Langendijk, ink and watercolor on paper, 17,7 x 19,7 cm, signed and dated lower right, AAG Auctions. Amsterdam, 7 May 2012                                               Max Liebermann, oil on canvas, ca. 45 x 55 cm, signed and dated lower right, Museumslandschaft Hessen Kassel
The difference between the two horsemen could not be greater. The cavalry man and his horse loaded with all he needs for his bivouac and his weapons. We can see the tent poles and herrings, a blanket, a haversack, a kettle, a tricorn hat, a long rope, a rifle and a pistol holster. He is an example of the well-prepared soldier in control of the well-trained horse, trotting to his destination. The gentleman riding on the beach shows he has no duties, hardly a destination and is just enjoying a good time with a very relaxed horse. The horse stands still even with the approaching waves and the loose reins. Both horse and rider are relaxed. Two horses and two riders with a different role in life.